Quality Shower and Bathtub Installation Services in Friendswood
As easy as a Lowe's tutorial may make it seem, installing a shower or bathtub is an incredibly delicate process. A simple error can lead to premature damage within the fixtures, such as cracks, moisture pooling, broken tiles, and shower drain clogs. Most importantly, an improper bathtub or shower installation can leave room for persistent leaks. Not only will this lead to water damage or mold growth in your bathroom, but you can also expect an exponential spike in your water bill.
So, it's safe to say that hiring a professional to install your bathtub or shower is crucial. Still, not everyone has the time to search for an experienced installer and check their license, other credentials, previous work, and insurance.  After you contact us, we'll send a highly experienced, skilled bathtub or shower installer to your home.
Our network of bathroom professionals can get the job done within days, getting your bathroom up and running as soon as possible. Since our specialists have been installing showers and bathtubs for decades, they know how to complete this project affordably, efficiently, and safely.
If you're looking for a new shower or bathtub, call our bathroom remodeling contractors to help you find the perfect pick and install it right away.
Bathtub and Shower Installation Must-Knows
When you look at your bathtub or shower, it may seem easy to make them last forever with the right care. Unfortunately, most bathtubs and showers aren't meant to last longer than 15 years. If you opt for a high-quality fixture with unmatched maintenance, you may be able to make them last 20 years.
Soon enough, a lack of support, harsh cleaners, and improper installation can cause your bathtub to crack. This eventually leads to moisture pooling and, in the worst-case scenario, mold growth right under your bathtub!
Your shower can face similar types of damage, such as burst pipes within the walls, cracked tiles, hard water stains, and persistent leaks. These issues also contribute to mold growth and raise your utility bills drastically.
If you're facing such issues with your bathtub or shower, it may be time for a re-installation. Hiring a professional to do the job for you can prevent long-term damage from leaks, drain clogs, air gaps, sewer gas smells, and cracks.
Without the right equipment and expertise for installing a bathtub or shower, you can expect problems like P-trap leaks, unsealed air gaps, blocked shower drains, and structurally unsound bathtubs.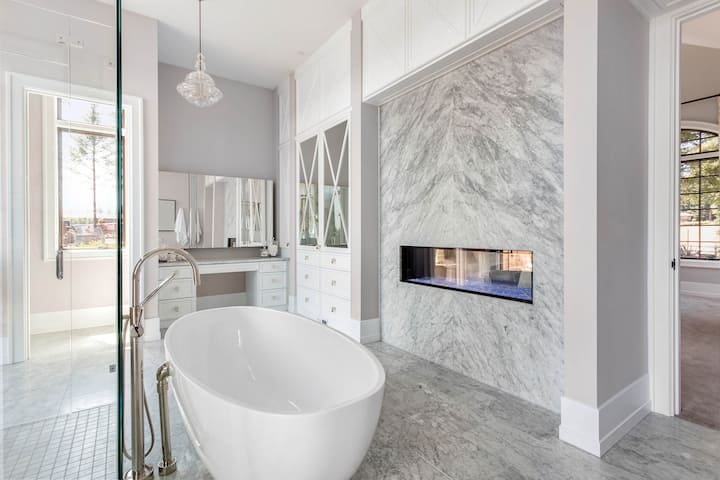 Get in Touch With Us
Let's chat about a professional bathtub or shower update for your Friendswood home. We're excited for the chance to work with you!
Installing a Walk-in Shower
Installing a walk-in shower may seem as simple as fixing a showerhead, but you also have to factor in the shower door, shower curb, shower pan, tiles, glass enclosure, and waterproofing materials.
Since the process can be lengthy and somewhat delicate, it's best to hire a professional to install a walk-in shower for you. Not only will they finish the job quickly and safely, but they'll also use their supplies efficiently to save you money.
If you're looking for a professional shower installer in Friendswood, Texas, call us today. Our specialists are available to install all kinds of fixtures with decades of experience.
Whether you're installing a brand-new shower, replacing an old shower, or converting a traditional bathtub, our network of bathroom professionals offer our shower installation and bathtub installation services at competitive rates. Our team will also ensure that the plumbing, labor, tile material, individual parts, and accessibility elements are available at affordable rates.
Our specialists' experience allows you to pick between mixer, electrical, power, and smart shower fixtures. Additionally, you can pick from sliding, bi-fold, steam, curved, framed, pivot, and frameless shower doors.
Bathtub Replacements
Your bathtub is undoubtedly the most integral part of your bathroom, but it is also the most prone to damage. Improper installation, harsh cleaners, and a lack of support can lead to premature damage in your bathtub and require a replacement.
Once you notice damage from any of these causes, it's best that you replace your bathtub right away. Otherwise, cracks can leave room for moisture pooling under your bathtub and lead to severe water damage and mold growth.
Plus, if you or your family members use a wheelchair, a traditional bathtub is probably highly inaccessible for you. This is the ideal opportunity for you to switch to a more accessible option, such as walk-in or seated bathtubs.
An online tutorial may look easy enough, but installing a bathtub is a complex process. They can cost hundreds of dollars and can crack due to a lack of support or improper water pressure during the installation.
That's why it's best to call a professional installer and save money and time.
Bathtub-to-Shower Conversion
There's no feeling like a warm bath at the end of a long day. But if you have a small bathroom, a traditional bathtub can make you feel somewhat limited as you can't install a separate shower. Plus, using a bathtub daily can be impractical, especially for a wheelchair user.
Walk-in showers are far more accessible than the traditional bathtub, allowing wheelchair users to make their way in without difficulties. The best part about converting to a shower is the versatility in design, as you can pick from various shower doors and enclosure styles.
That includes sliding, bi-fold, steam, curved, framed, pivot, and frameless shower doors. Additionally, shower fixtures come in many variations, including mixer, electrical, and smart showerheads.
A bathtub-to-shower conversion is lengthy, laborious, and incredibly difficult, so it's best to hire a professional. They'll start by ripping out the old bathtub and prepping the floor for tiles and a shower pan, along with waterproofing the rest of the bathroom. Finally, they'll install the fixtures, shower curb, tiles, shower pan, and glass enclosure.
Features That Make Your Bathroom Handicap Accessible
It's no secret that modern bathrooms often aren't made with wheelchair users in mind. Luckily, you can use your bathroom renovation as an opportunity to create a more accessible space for disabled users. For example, adding grab bars near the toilet, sink, shower, and bathtub is a simple way to make your bathroom more practical for the elderly and those with low muscle strength.
Additionally, you can install seated showers, wider doorways, low-level toilets, and longer tap levers to accommodate wheelchair users. Even if you don't have wheelchair users in your home, these features are completely practical for able-bodied people and can make your home more welcoming for handicapped guests.
One of the main ways traditional bathrooms become inaccessible for wheelchair users is due to obstructions, including various fixtures and decorations, minimizing the available space. As a result, wheelchair users cannot properly navigate the entire room. Clearing out as much space as possible is a great way to make your bathroom more handicap accessible.
Schedule a Shower or Bathtub Installation Today!
Most of us assume that our shower or bathtub can last forever as long as we maintain it well. Unfortunately, most traditional bathtubs and showers aren't meant to last longer than 15 years. At some point, you'll notice signs of damage that make the fixture unsafe to use.
For example, your showerhead may begin to rust while the tiles around the shower pan crack. Your bathtub can suffer from mold growth due to cracks or lack of support. The main reason your shower or bathtub can manifest premature damage is improper installation.
So if you're looking to install your new shower or bathtub, it's best to hire a professional to get the job done. Luckily, our team of experts have decades of experience installing bathtubs and showers.
You can count on Our network of bathroom professionals to get the job done within hours, using durable supplies and high-end equipment. They've worked with all kinds of showers and bathtubs. That means you can pick between various shower doors, shower pans, glass enclosures, bathtub types, and showerheads. Additionally, this is a great opportunity to make your bathroom more accessible.
If you live in the Friendswood area and want to get a bathtub or shower installed, call us today to schedule an appointment with one of our specialists.