Friendswood's Top Bathroom Remodel Services
Is your bathtub or shower older than 15 years? Are the fixtures in your bathroom unstable, inaccessible, and outdated? Do you have water damage and mold growth in the bathroom?
If you agree to any of these questions, it's time for a bathroom remodel. Of course, you can also just do it for the sake of better design. If you're interested in remodeling your bathroom, our specialists know just what you need.
When working with the right bathroom remodeling contractors, you can come up with innovative storage solutions for cramped spaces, effective mold remediation practices for water-damaged areas, and factors to make your bathroom more accessible for the handicapped.
Our team includes all the necessary contractors to complete a bathroom remodel, including a builder, plumber, electrician, carpenter, tiler, and window specialist. Each tradesman is background checked, licensed, insured, and experienced.
Contact us today to share your bathroom remodeling plans and get a personalized quote.
What You Need to Know About Bathroom Remodeling
A bathroom remodeling project can be a costly commitment, so it's best to know the facts and figures before making a move. As a first-timer, it can be hard to know the right budget for your renovation and what changes can make your bathroom more accessible, practical, and stylish.
In terms of budget, it's best to assign 10% of your home's value for a full bathroom renovation. 5% may suffice if it's only a half bathroom or powder room. We recommend setting aside an additional 2% of the budget to leave room for mishaps and extra materials.
While a bathroom renovation will always be expensive, the right bathroom remodeling contractor will make sure to get you the best deal. Our team utilizes their decades of experience to find the most affordable yet durable supplies possible.
Bathroom remodeling is about more than just a design revamp. You can also use this opportunity to get rid of outdated fixtures and make your bathroom accessible and safer to use.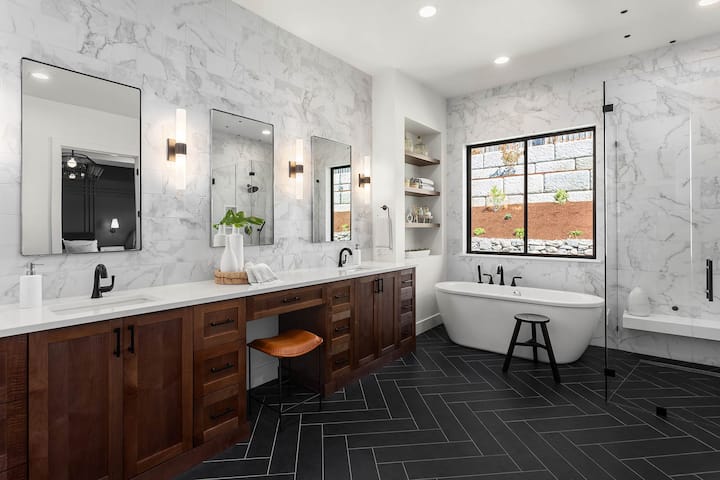 Popular Bathroom Remodel Topics:
Get in Touch With Us
We're excited to hear from you about your bathroom remodeling needs. No bathroom remodel in Friendswood is too big or too small for our experienced team!
Bathroom Tile Work
Bathroom remodeling projects typically start by ripping out all the fixtures so the tradesmen can work on the flooring. After prepping and waterproofing the floor, it's time for tiling. When choosing bathroom tiles, there are a few things to consider.
First, the size and shape can influence how big, small, widened or lengthened your bathroom looks. While 4×4 is the standard size used by most people, you can also opt for anywhere between 2×2 to 60×60, depending on the size of your bathroom.
Next, you must consider the tiles' material, with the most popular options being porcelain, stone, mosaic, or ceramic. The slip-wear ratings of the tile materials determine how safe your bathroom is.
Ranging from Class 1 to Class 5, the type you pick can help you prevent slip and fall hazards in your bathrooms. Class 1 tiles are only safe to install on walls, while heavy-traffic floors will require Class 5 bathroom tiles.
Toilet Installation
Your toilet is one of the most integral parts of your bathroom, so it's best to keep it accessible, practical, and updated. Unstable or leaking toilets aren't just unsafe to use, but they can also lead to spikes in your water bill.
If your toilet is cracked, running, or wobbly, it's best to replace it as soon as possible. Although it may seem easy enough to install one yourself, toilet installation is actually quite a delicate process. The wrong water pressure can crack your toilet, wasting hundreds of dollars.
Plus, you may face an unprecedented plumbing emergency that you won't have the equipment for. That's why it's best to hire a professional installer and get the job done efficiently, affordably, and safely.
It typically costs somewhere between $300 to $600 to install a toilet professionally, but that number may go higher or lower due to certain factors. For example, the toilet type, pre-existing plumbing issues, and bidet installation can influence the cost of your toilet fitting.
Making a Bathroom Accessible for Disabled
If you're planning to remodel your bathroom, it's best to use this opportunity to make the room more accessible for the disabled. Traditional bathrooms are known for their inaccessibility, with a lack of grab bars, cramped doorways, and unseated showers.
Luckily, there are a few fixtures and fittings you can install to make your bathroom more accessible and handicap-friendly. For example, those with low muscle strength can benefit from grab bars and handrails, while wheelchair users can easily enter curbless roll-in, seated showers.
Additionally, you can opt for lower toilets and sinks, making these common fixtures easy to use in a seated position. Other factors that may make your bathroom more accessible include motion-sensor sinks, extendable shower hoses, and wider doorways.
Without these features, a traditional bathroom can be impossible to use for a wheelchair user. Even if you or your family members don't have any disabilities, including these features can make your bathroom more practical and welcoming for handicapped guests.
Bathroom Remodeling Ideas
As a first-timer, a bathroom renovation project can seem pretty large-scale and intimidating. Initially, you may not know where to begin, what changes to make, and who to hire. First, contacting a professional bathroom remodeling team will connect you to all the necessary tradesmen required in the process.
The changes made in your bathroom renovation don't have to be solely for the aesthetics; you can also take this chance to make your bathroom more accessible and install innovative storage solutions for a bigger space.
It may seem like painting and tiling only alters the aesthetics of your bathroom, but you can use these procedures strategically to make your room look bigger or smaller. If you want your bathroom to look more spacious, opt for a dark accent wall and horizontal tiles.
Mirrors can also help you make your bathroom look bigger, while strategic placement can also help to brighten up the room. When it comes to your storage solution, make sure to invest in durable, mildew-resistant, and waterproof materials to protect your belongings.
Get a Personalized Quote Today!
If there's any room in your house that's used most frequently, it's the bathroom. Coincidentally, it's also the one requiring the most maintenance due to the possibility of mold growth and water damage.
Improper maintenance can result in various kinds of damage. That may include moisture pooling in a cracked bathtub, slip and fall hazards in a poor-quality shower pan, and high water bills due to running toilets.
Eventually, these problems escalate, and the repairs become too frequent and costly. In this case, it's best to opt for a bathroom renovation to give yourself a fresh start. Bathroom remodels are more than just revamped aesthetics; they're also a great opportunity to make your bathroom more handicap-accessible, damage-resistant, and safe to use.
That can include installing Class 5 tiles, widening the entries for wheelchair access, adding grab bars for added support, installing new leak-free fixtures, and implementing space-saving storage solutions.
Of course, a bathroom renovation is not the job of one person. The complete project may require the expertise of a plumber, electrician, builder, carpenter, tiler, installer, window specialist, and other tradesmen.
We can connect you to our team of highly skilled bathroom remodeling professionals. You can expect all these services and more at a competitive rate.
Contact our expert bathroom remodeling contractors today to get one step close to achieving the bathroom of your dreams.